At each of our nurseries the Staff Team implement different themes and topics, based on the children's interests and upcoming events and festivals. These themes are used to support the children as they work through the Early Years Foundation Stage.
Example Themes/ Festivals:
The circle of life (life cycles)
Children from around the world (Diversity)
Moving to School (school readiness)
Christmas and the north pole
Outings and Transport
Harvest / Easter
Fairy tales and rhymes
Diwali / Hanukkah
Space and Planets
Colours, Materials and Textiles (exploring their senses)
The children take part in a wide range of age adapted activities both indoors and in our garden linked to each monthly theme. These themes are always flexible, we encourage spontaneous discussions and ideas from the children as much as possible.

Key Person

Once each child has started to settle into the nursery they will be given a Key Person. This is a member of our team who is responsible for;
Being that special person that knows the child best and who the child will form strong bonds with
Ensuring the child's individual developmental needs are met
Being the point of contact for the parents if they have any questions
Recording achievements and reflected upon them
Reviewing and producing progress summative reports
Setting challenging activities in different areas so each child makes meaningful steady progress through their time at Little Cherubs.
What is the EYFS?
The Early Years Foundation Stage (EYFS) sets the standards for the development and welfare of children, which all Childcare Providers must adhere to.

This ensures each child is learning/developing at a steady pace, and keeping the children healthy and safe. It is about giving each child a broad range of knowledge and skills as a foundation for future progress throughout school and on to later life.

The 7 areas of Learning

Prime areas – what we focus on supporting each child with from birth to 2 years
Personal, Social, Emotional Development (PSED)
Communication and Language (CL)
Physical Development (PD)
Specific Areas – What we support each child with in addition to the prime areas from 2-5years
Mathematics (MD)
Literacy (LD)
Understanding the World (UW)
Expressive Arts and Design (EAD)
More information about the Early Years Foundation Stage can be found at: www.foundationyears.org.uk
What is EyLog?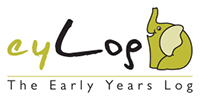 EyLog is a secure online early years log, which stores your child's learning journey. EyLog is compliant to the EYFS (early years foundation stage) requirements, it allows Little Cherubs to capture observations and manage the learning and development journey of a child electronically. You can access pictures, videos, observations and much more at the click of a button!
Parents/Carers can download the EyLog Parent application which is available for smart phone and tablet users for easy access to their child's learning journey. Parents/Carers can also comment on observations made by nursery practitioner's and you can even create your own observation to share with the nursery!
All data for children and practitioners are stored in a secure database which cannot be accessed by search engines. Each parent is provided with a unique pin which the Nursery Office sends via email to enable access to their individual child's learning journey only.